Beth El/Pozez JCC Preschool
Beth El Hebrew Congregation, in collaboration with The Pozez Jewish Community Center (formerly the Jewish Community
Center of Northern Virginia), is pleased to offer a Jewish preschool program with extended child care. The preschool is located onsite in the Beth El Hebrew Congregation building.
We strive to help each child grow as an individual. We emphasize the development of self-confidence and a positive self-image. Our activities provide experiences to foster social skills and emotional maturity, as well as strengthen cognitive and physical growth.
Our Philosophy
Our teaching follows a Reggio Emelia inspired philosophy that is based on the following ideas:
Children have a say over the direction of their learning.

Children are able to learn through experiences of touching, moving, listening, seeing, and hearing.

Children have a relationship with other children and material items to explore.

Children have endless ways and opportunities for creative thinking and exploration.
The philosophy involves an emergent curriculum that builds on the interests of the children. Topics of study are chose though discussions/observations of the children, community or family events, interest of children and teacher directed provocations. The curriculum provides hands on learning experiences, areas for children to experiment with the natural world and real life problem solving with opportunities for creative thinking and exploration.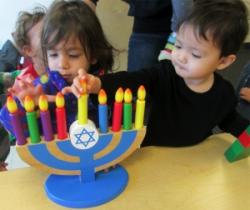 Our teaching philosophy is designed with children's needs in mind. There is enough flexibility in the curriculum that the teacher can adjust the daily activities to meet the needs and interests of each child. Sensory, motor, perceptual and language skills are introduces through materials and activities that are child centered and play based. Activities are planned to emphasize the process rather than the product, instilling a sense of personal accomplishment and pride.
An integral part of the program is building a foundation for a positive Jewish identity. This is accomplished by observing Jewish holidays through song, creative movement, cooking and crafts as well as reciting blessings in Hebrew.
Our ECLC program is a year round model to better serve our families in a Reggio Emilia way!
ECLC Programs Available
Toddler Program
Children who are between 16 months and 23 months are eligible for this program. This program is full-time only (Monday–Friday, 7:30 am–6 pm). Children who will be 2 by September 30 will be placed in the 2s program.
Preschool Program
Part Time:
Children must be 2, 3, or 4 years of age by September 30. The preschool program is 5 days per week (Monday through Friday) from 9 am–1 pm. Parents have the option to extend their child's day with early morning, early afternoon, or late afternoon care.
Full Time:
Children must be 2, 3, or 4 years of age by September 30. The preschool program is 5 days per week (Monday through Friday) and we are open from 7:30 am-6 pm. Full time students also benefit from Winter Break camp and Spring Break Camp.
Click here to download 2021-2022 registration packet.
For additional information or to schedule a tour, please contact: Dina Backer, Pozez JCC-Beth El ECLC Director, 703 537 3084.
Registration for School beginning in September opens to new families in February on a first come, first served basis, with member fees for those who are Beth El Congregants or Pozez JCC members.
Mon, October 25 2021 19 Cheshvan 5782