Alexandria: Early Childhood Learning Center
2023-2024 Registration | NOW OPEN
Quality Education - Warm, Caring Staff - COVID Safety Protocols

The Alexandria ECLC is a year-round school and runs on a 12-month tuition schedule. Registration is open to all. Admissions are on a first-come, first-served basis. Families interested in enrolling in the Alexandria ECLC who would like to learn more are encouraged to contact Dina Backer, Alexandria ECLC Director, or call 703-537-3084.
In order to use member rates for tuition, families must maintain a Pozez JCC membership or a Beth El Hebrew Congregation membership beginning at least thirty days prior to your child's first day in the program. Learn more about membership.
Beth El/Pozez JCC Preschool
The ECLC is an early childhood education center located in Alexandria, VA. It is a partnership between Pozez JCC and Beth El Hebrew Congregation (where it is housed).
Essentially we are a private preschool and childcare center that offers full-day preschool programs. We promote developmental growth through creative interaction between children and teachers within a warm, caring environment that's based on Jewish values. Highlights include:
Licensed preschool
NEW! Kindergarten program that follows VA state guidelines
COVID Safety protocols enforced
About
The Early Childhood Learning Center (ECLC) at Pozez JCC-Beth EL is a nurturing, safe, developmentally appropriate learning environment, which is inspired by the Reggio Emilia approach to education. Our curriculum incorporates Jewish values while being universally inclusive. We believe that every child is capable, competent, and has the right to be respected as an individual. Our philosophy is based upon the belief that we have the ability and responsibility to nurture each child's social, emotional, cognitive, and physical growth through interactions and experiences that foster a zest for life and a love of learning. We offer a child-centered program which is inspired by the Reggio Emilia Approach. We believe that "care" and "education" are inseparable and view each child as a feeling, thinking, and creative individual whose growth we nourish. We believe a child's positive self-esteem is paramount to emotional, social, physical, and intellectual development.
The daily environment we create for our children must provide them with all the components necessary for positive growth and development. We are committed to supporting the parents/guardians of our children by providing a variety of quality services and developing positive relationships between home and school.
Program Options
Toddler Program
Children who are 16 to 23 months are eligible for this program.
Monday–Friday, 8 a.m.–5 p.m.
Preschool Program
Children who are 2, 3, or 4 years of age by September 30 are eligible for this program.
Monday–Friday, 8 a.m.–5 p.m.
Kindergarten Program
Children who are 5 years of age by September 30 are eligible for this program. Monday-Friday, 8am-5pm with instructional hours between 8:30 a.m.-3:30 p.m. The Kindergarten program will offer instruction based on the Virginia/FCPS Kindergarten Standards of Learning through hands-on, engaging activities.
New Program: Minimum enrollment required for opening. Ten-month contract required for the Kindergarten 22-23 school year.
Program Dates
The ECLC is a year-round program which begins in August 2022 and ends in August 2023. Kindergarten ends in June 2023 at which time children are eligible to attend the Pozez JCC Camp Achva.
Exact school year dates are determined based on the Fairfax County Public Schools calendar. The ECLC closes for one week prior to the new school year beginning, one week in December for winter break and for professional development days during the year. The ECLC is closed for select Jewish holidays and some secular holidays. An official school calendar will be published in May 2022. Additional short-term closures may be needed due to confirmed cases of COVID19 or state and county restrictions. Information regarding tuition in these circumstances can be found in the registration packet.
Our Philosophy

Our teaching follows a Reggio Emelia inspired philosophy that is based on the following ideas:
Children have a say over the direction of their learning.

Children are able to learn through experiences of touching, moving, listening, seeing, and hearing.

Children have a relationship with other children and material items to explore.

Children have endless ways and opportunities for creative thinking and exploration.
The philosophy involves an emergent curriculum that builds on the interests of the children. Topics of study are chose though discussions/observations of the children, community or family events, interest of children and teacher directed provocations. The curriculum provides hands on learning experiences, areas for children to experiment with the natural world and real life problem solving with opportunities for creative thinking and exploration.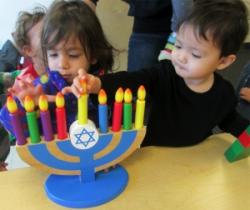 Our teaching philosophy is designed with children's needs in mind. There is enough flexibility in the curriculum that the teacher can adjust the daily activities to meet the needs and interests of each child. Sensory, motor, perceptual and language skills are introduces through materials and activities that are child centered and play based. Activities are planned to emphasize the process rather than the product, instilling a sense of personal accomplishment and pride.
An integral part of the program is building a foundation for a positive Jewish identity. This is accomplished by observing Jewish holidays through song, creative movement, cooking and crafts as well as reciting blessings in Hebrew.
Our ECLC program is a year round model to better serve our families in a Reggio Emilia way!
JCCA Sheva Early Learning Framework
An integral part of the program is building a foundation for a positive Jewish identity. This Framework is a basis for the continued education of the children in our program which builds upon the foundations already in place through the Reggio Emilia-inspired philosophy.
Core principles include:
1. Children as Constructivist Learners: Kavod (respect) for each child's ability to think for himself/herself

2. Early Childhood Directors as Visionaries: Our professional staff has the chochma (wisdom) to make sound decisions for their population

3. Early Childhood Educators as Professionals: Our Educators develop ahavat limud (love of learning) for themselves and their students

4. Families as Engaged Partners: Opportunities are provided throughout the year to build kehillah (community) between our families and staff

5. Discover Coordinated Approach to Childhood Health (CATCH): Emphasis on the Jewish value of sh'mirat ha'guf (taking care of our bodies) through nutrition and exercise

6. Israel as the Story of the Jewish People: Further learning about Israel to educate our students and their families about the story of the Jewish people

7. Environments as Inspiration for Inquiry: The concept of the environment as inspiration for inquiry — spaces are intentionally designed to encourage curiosity, intellectual engagement, and creativity
Thu, September 21 2023 6 Tishrei 5784